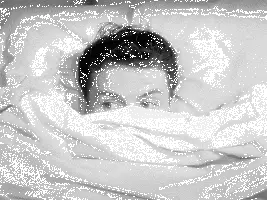 Frank Sinatra's first drivers license is on the auction block, The Star Ledger reports.
Sinatra, who was 19 in 1934 when he received his first New Jersey license, is part of a Hollywood Memorabilia Auction by RR Auction based in Boston. Items belonging to Marilyn Monroe are also up for grabs on Thursday when initial bidding ends.
Sinatra's license was mailed to 841 Garden Street in Hoboken, an attached brickhouse as thin as teenage Frank if you believe Google Maps.
Zoom in on the paper and text license and you'll also see Old Blue Eyes eyes were really blue, and that his name, Mr. Sintra, was mispelled.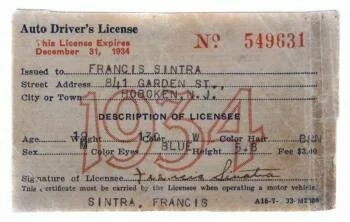 Sinatra was struggling to make it as big as his idol Bing Crosby then. In 1935, thanks to pressure from his mother who had power around Hoboken, Sinatra would get one step closer to his dream after Mama Sinatra talked to the mother of one of The Hoboken Three, a local music group. Sinatra lasted a year with the group. He quit after numerous beatings and jealousy over women he pulled.
The 'a' dropped from Sinatra's name on his license was the one Mr Sinatra added to the word class. Or so they say.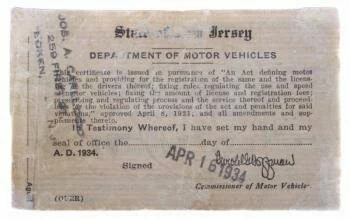 Bidding on the license and a letter from a lawyer calling for Sinatra to have his driving privileges revoked ends on Thursday.

Below, listen to Sinatra with The Hoboken Four