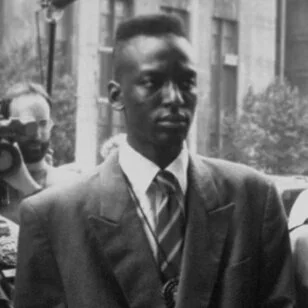 Last month I attended a screening, sponsored by the National Association of Black Journalists, of The Central Park Five, the Ken Burns and Sarah Burns and David McMahon documentary about the railroading of five innocent Black and Latino teens accused and convicted of raping and beating a white female jogger in Central Park in April of 1989. The case shocked the city and nation and introduced a new vocabulary to describe out of control Black and Latino teens: 'wilding' and 'wolf pack'.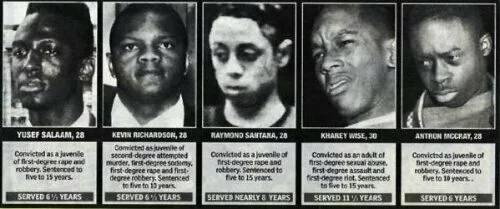 The Central Park Five as teenagers in 1989.
The doc aired on PBS last night and is now streaming online. If you haven't seen it, you should check it out if you want to get an understanding of how race and class, bolstered by media, shapes injustice in New York City.
The doc was screened at MIST in Harlem and I, along with over 200 audience members, had the opportunity to speak to Raymond Santana, Kory Wise, and Yusef Salaam, about their experiences after leaving prison and their lawsuit launched against NYC for wrongful imprisonment and malicious prosecution. The men were exonerated in 2002 but the city still hasn't settled; and the prosecutors and detectives who ruined their lives stand by their detective work. Here's some of what was said after the screening.
Berbice Market: Has anyone, either the detectives, the reporters or prosecutors, privately or off record, say or express any remorse?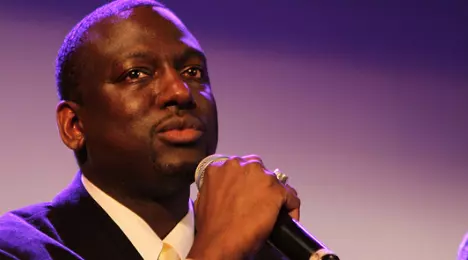 Yusef Salaam: This is in regards to the persons or officers directly involved,  right?
Yes.
YS: The only apology that we have ever received has been from the court room artist, [Marilyn Church]. She wrote a book called The Art of Justice. She has all these cases in her book, John Gotti, us, Bernhard Goetz,  because she was the one that was drawing…Back then there were no cameras in the courtroom,  it was an artist who did their job to depict the perpetrator. When you are a person of color you are a perpetrator, you're not innocent until proven guilty. In her book there's a caption that say's "I'm so sorry for the way that I drew them. I feel like I had a direct part in their conviction."

Marilyn Church courtroom drawing of The Central Park Five.
When we got to prison, the first thing that people said was, I thought you guys looked like these animals! That's how they were drawing us.They were drawing us looking Iike big gorillas and, unfortunately, as [former NYC Mayor David Dinkins said back then, mutants. Mutants of the  human family who were urban terrorists. This language that was being used, this was how they were drawing us. No one from back then has ever come out and apologized. And that right there does so much as Ken says, We're all human, you know what, I'm sorry.
It's interesting that you mention the word mutants because at the time, either before or after your arrest, Marvel Comics came out with a comic book called Wolf Pack, which I think was a result of your case, and this language was used to describe you.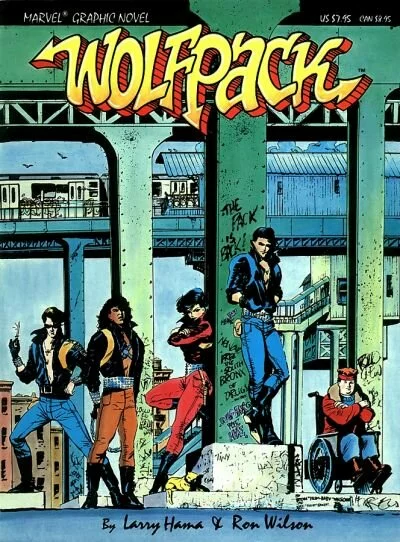 YS: I was talking about this the other day, about hip hop artists talking about the Justice League. I said, Man, we should be the justice league because we've been through so much!
On what is happening with their lawsuit against the city. Below, Raymond Santana explains how New York City is stalling their lawsuit.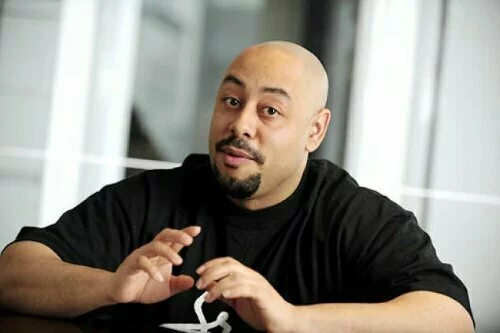 Raymond Santana: So what happens is they send you a stack of waivers they ask you to sign off on. They basically go into your history: school records, medical records, prison records, anything they can find to use against you. For our parents and our siblings, they go back 25 years. So my father, they wanted him to sign off on how many doctors he's seen in 25 years.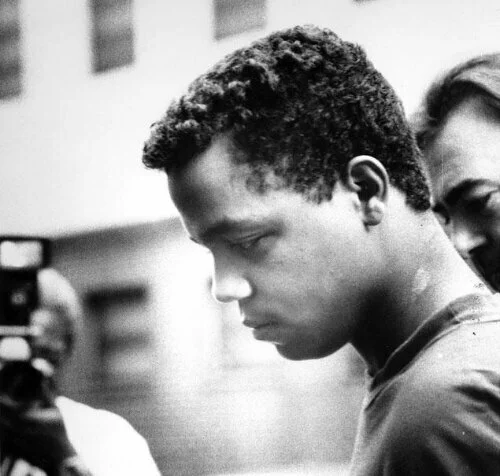 And so, this stuff has no bearing on the case.Their theory is that either Reyes [ Matias Reyes, above, confessed to the crime] went first or we went first. They're still saying that we are guilty but it changes. Now they're saying it isn't a question of whether we are guilty or innocent anymore, its all about how the police did nothing wrong, that they followed procedure. So basically its all about credibility.
What they're trying to do is trying to find anything that could discredit you. So when we go to trial, they'll say, Well you know, Raymond, he was exonerated in the Central Park Jogging Case but he also went to jail for a drug case. Which makes people automatically say, 'Yeah he gotta be a criminal', without knowing the facts as to why I went to jail. This is where we at right now; we're still in depositions. To date they've completed 45 depositions but the heart of their case still hasn't gone yet. That's [prosecutors] Fairstein, thats Lederer, Detective Oroyo, [Detective] Mike Sheehan, who is on Fox 5.
The reason why they're trying to hold them to go last is becuase they have a lot of dirt in their history. Mike Sheehan, allegedly, drives drunk on a regular basis. This is the kind of stuff they're trying to hold out until the end, part of the stall tactics they use against us.
New York City has settled lawsuits with drug dealers but still refuse to settle the case 13 years after the men's exoneration.