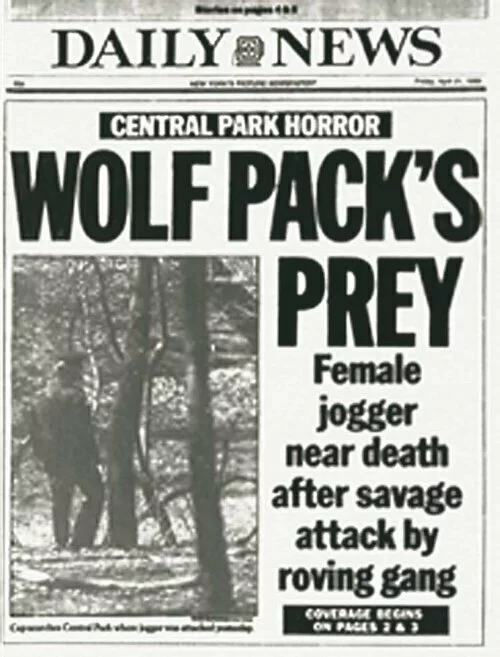 April 20, 1989 was a crazy day for five teenage New Yorkers living in Manahttan. The day before was supposed to be a fun day chillin in Central Park, instead it turned into a multi-decade nightmare of incarceration, cover up and the miscarriage of justice.
The five teens, some of them friends, were arrested and charged with the rape and beating of a white female jogger in Central Park. The boys, all Black and Latino, were between the ages of 14 and 16, and were told by NYPD detectives, who were eager to close the case, to confess to the crime. A script was created; and believing they could go home, the boys followed the script and sealed their doom.
Tonight on PBS the case is explored in The Central Park Five, a two hour documentary by father-daughter team Ken Burns and Sarah Burns. The doc sprang from Sarah's book by the same title, and examines how the boys, Antron McCray, Kevin Richardson, Raymond Santana, Korey Wise, and Yusef Salaam confessed after hours of pressure and were sentenced to decades in prison for a crime they did not commit. In fact, it was a violent serial rapist who admitted his guilt while serving his own prison sentence.
The film has no narration and relies on the testimonials of the boy's videotaped interviews, interviews with their parents, detectives and newspaper coverage which, as to be expected, was sensational. It is an amazing document exploring how fear and media shapes race perception in a city of millions, and it is heartbreaking!
"This tragedy reminds us how much we struggle to come to terms with America's original sin, which is race," said Ken Burns. "One only need to look at the history books to understand that, unfortunately, the Central Park Five are not unique in American history."
"This case is a lens through which we can understand the on-going fault-line of race in America," said Sarah Burns, who also wrote The Central Park Five: A Chronicle of a City Wilding, (Knopf, 2011). "These young men were convicted long before the trial, by a city blinded by fear and, equally, freighted by race. They were convicted because it was all too easy for people to see them as violent criminals simply because of the color of their skin."
The five men were released from prison in 2002 after Matias Reyes' confession was recognized as valid, and after DNA evidence placed him at the scene of the crime. Now they are suing the city for millions. NYC isn't budging, though; and is throwing hurdles to block or delay the settlement. No bueno.
PBS