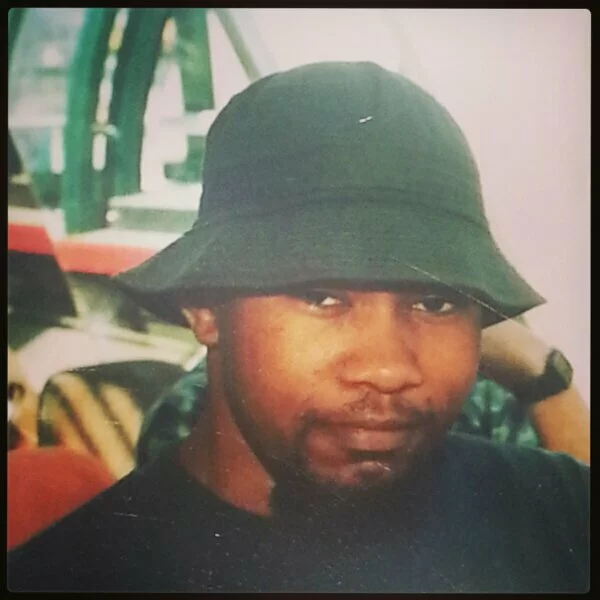 Bucket hats are back this Spring/Summer after an appearance made last Summer 2012,;I've been wearing them since the mid-1990s. That's me above wearing one on a boat in Paris on the River Seine. I think I bought it a surplus store in London either in Archway or Bermondsey and wore it like a second skin while roaming Paris for a weekend.
The bucket hat has its origins in Ireland, worn by fishermen and farmers as headgear against the rain beginning in the early 1900s before the aristocracy caught wind and incorporated them into their wardrobe. Eventually it became prized and out of reach for ordinary folks. Hip-hop had it in Vogue for a while in the 1990s then it fell out if favor. Now its back but mostly on rappers.
I don't think the bucket hat will shove snapbacks and fitteds to the side, it's just a craze that's a nod to the 1990s. But the prices of some of them might leave them on shelves. Some designers and stores are are asking you for $200 to cop one. Fuck that, go to an army surplus and grab one for $10 and customize your own. eBay has a great supply of solid color bucket hats, too. If you really want to be unique, buy some and customize with patxhes and paint. In the meantime,  here's a few for inspiration to help you post up this summer.
1. I Love Ugly Flags Bucket Hat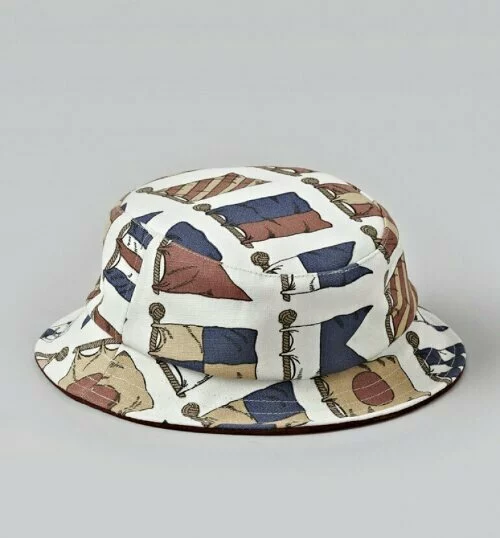 New Zealand's I Love Ugly Flags Bucket Hat thefeatures various nautical flags, from dangerous cargo to man overboard and do not pass. Details include:
+ Under-peak lined with genuine pig skin suede
+ Hand sourced materials
+ 360 sloping brim
+ I love ugly patchwork embroidered on the inside
+ Inside circumference is 58cm
NZ $85
2. Supreme Floral Bucket Hat for S/S 2013.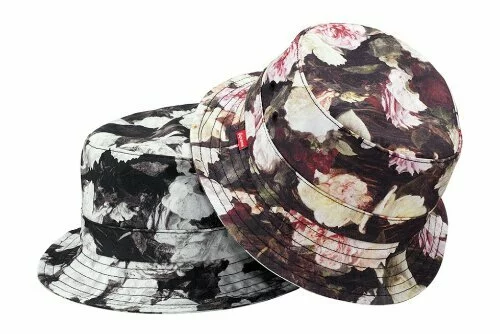 I bought some pants that was so badly designed by Supreme that I thre them away. Summer 1997 had some rainstorms and I had to get dry clothes on me fast. Supreme was the closest store I could get to so I bought them think I'd wear them for a while. After a day of wearing and skating in them I realized how awful they were.The pockets wouldn't hold my stuff and the crotch situation was nightmarish when push kicking. Supreme has matured since then but I haven't been impressed with them or worn anything by them for decades. I like their floral bucket hat though: Its is gorgeous.
3.Stussy Bucket Hats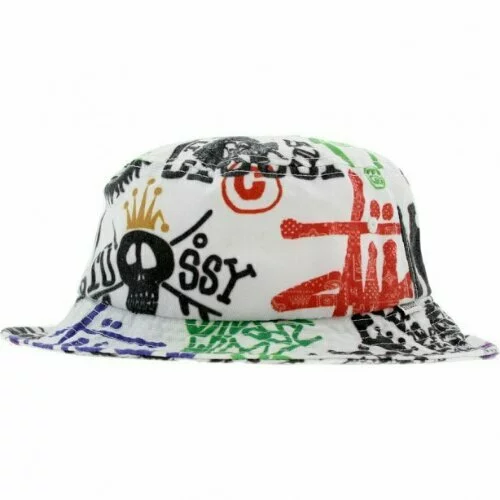 The above bucket hat was released by Stussy last summer but it's hard to find.. Maybe I'll try the old stand-by, eBay. In the meantime their camo version, $28, will have to do.