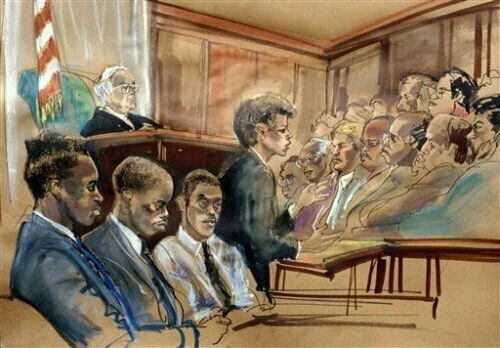 Filmmaker Ken Burns visited Huffpo Live yesterday and dropped some bombs. In an interview with show host Josh Zepps, Burns said that newly elected NYC Mayor Bill de Blasio will finally settle the infamous Central Park Five case.

"Bill de Blasio, the mayor-elect, has agreed to settle this case, and though this is justice delayed way too long, and that is justice denied, [they] will not only be exonerated," fillmaker Burns said. "… but they will have justice, they will see some closure, they will be able to be made whole."
Burns released The Central Park Five, a documentary about the case, last year. Its on Netflix now;  watch it.
This case has been dragging for over a decade through NYC courts. The men were arrested and framed by NYPD and the media when they were teens in 1980s New York. They were exonerated after Mathias Reyes confessed to the 1989 crime.
Back then: Yusef Salaam, 15, Korey Wise, 16, Kevin Richardson, 14, Antron McCray, 15, and Raymond Santana, 14 –  were found guilty of raping Trisha Meili, a 28-year-old Salomon Brothers employee who lived on the Upper East Side, as she went jogging in Central Park. The crime sparked outrage in New York City and made headlines around the world, as the attack was seen as emblematic of New York City's escalating crime problem. In 1990, four of the five suspects received a sentence of five to 10 years in a juvenile correctional facility, and one received a sentence of five to 15 years.
Now in their 30s and 40s the men are trying to piece their lives together.
They deserve every penny of that $250 million they're asking for.
HuffPo