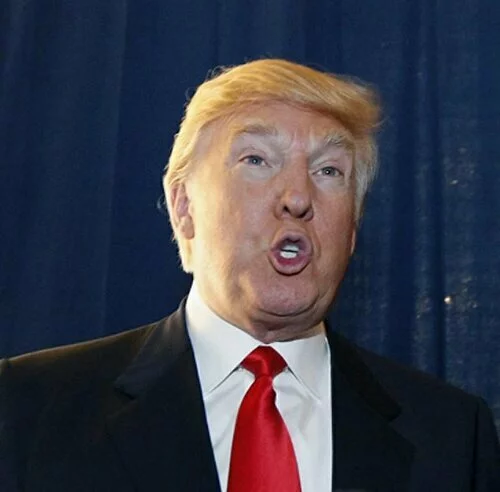 Loud mouth millionaire Donald Trump still believes the Central Park Five committed crimes in Central Park in 1989 despite their conviction being vacated. Thanks to a confession and DNA evidence from the real attacker,  Matias Reyes, a teenager, the group was exonerated in 2003.
Trump let his opinion fly on Twitter a few days ago after he was called out on his inaccurate assessment about the Boston Bombers by a high school coach. Their exchange is below.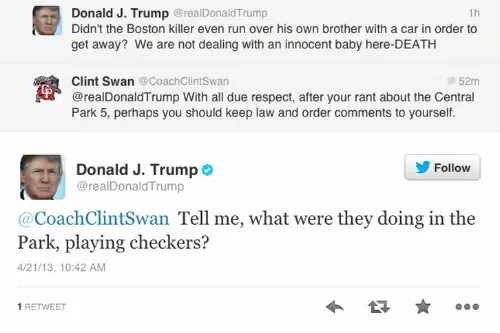 Viewers of Ken Burns and Sarah Burns documentary have been calling for Trump to apologize to the young men because in 1989, after Raymond Santana, Yusef Salaam, Kory Wise, Antron McRay and Kevin Richardson were coerced into confession, Trump took out a full page ad in a local paper and called for their deaths. The men were between the ages of 14 and 17.
Below is an exchange between Trump and college student Rebecca Erin who asked the balding real estate dealer to apologize to the men.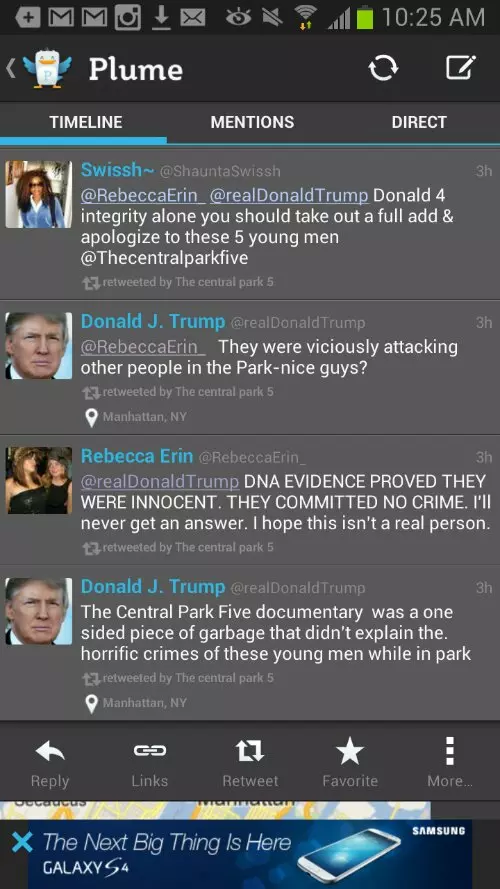 Trump still thinks the men are guilty of committing other crimes in the park including attacking and robbing people. In the documentary the boys copped to all sorts of crimes because they were told to do so by NYPD detectives who wanted to solve the crime quickly. Those detectives tricked those boys; you can see this in rhe language the boys used in their confessions. Hundreds of other teenagees were in the park the day the jogfer was attacked and the distances covered in the attack were too large for them to both rape and rob people.
The Central Park Five will never get an apology from Trump because he is convinced of their guilt despite evidence to the contrary. Plus: he doesn't want to. Here is a guy who thinks the documentary is one sided, a documentary without any narration, a documentary that uses only the words of the boys and the detectives and prosecutors who railroaded them. How is that unbalanced?
What's crazy is Trump actions in 89: he called for the deaths of teenagers without knowing the facts. He was wrong, the detecrives were wrong, the media was wrong, the prosecutors were wrong and the doc proves it.