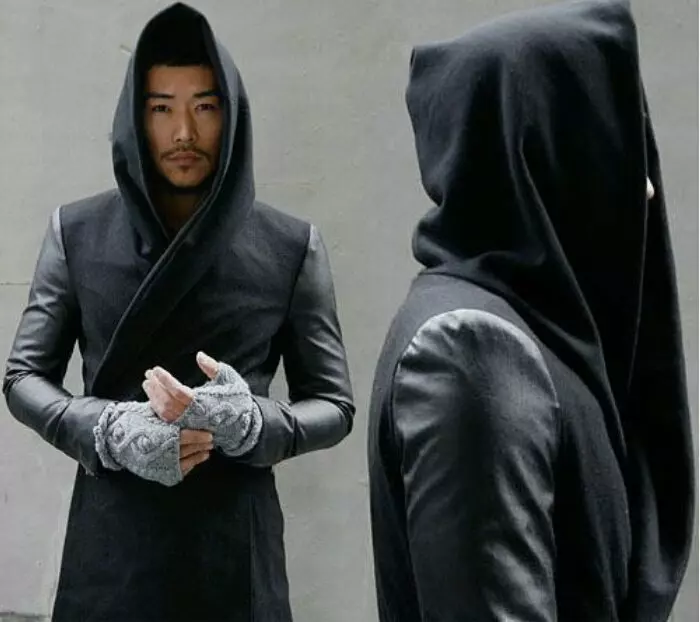 Shopping for sweatpants recently, I decided to turn to ebay. Why? I wanted something different, avant garde and cool.And when looking for all of the above, one must turn to Asia, I think. The results of my search led me to below,  a pair of nice, drawstring, drop crotch harem styled sweats with a skinny leg.The cost? $20 including free shipping.From Hong Kong.

I also found the coat that opens this story.
This wasn't the first time I turned to ebay and for cool ish. Last year I bought a checkered hoodie from Korea. The size was a tad small but, other than that, it fit like a glove. I wore it for the 3rd time yesterday during an usual,  warm December day in NYC. Awhile back I bought sone kicks off a guy in London, some gold mesh adidas lows.
The sweatpants should be here within six days if I am to believe the note I got from the shipper this morning.
The best thing about shopping on ebay is the ease. The worst thing? The waiting for your stuff. And the sizing. Clothes are made for Asian body types so if you are to shop, their largest size will prolly fit you as a medium or large. Detail of the sweats below. Included are other looks I want.
Sweats detail
Sweats in gray. The size Is XXXl in Chinese, a large in the US.
The above I found on Guylook.com, a knock off site based in Korea.