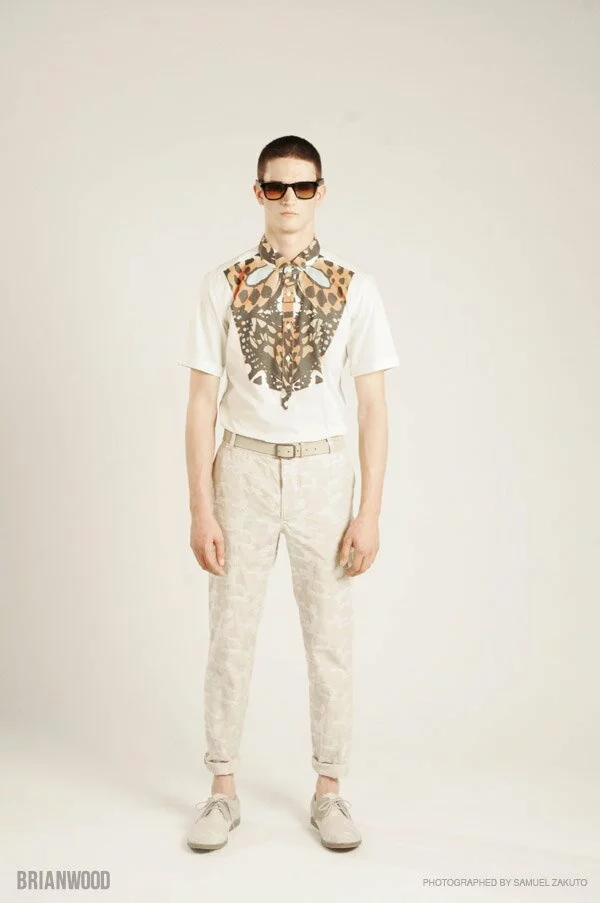 Beauty, as a descriptor, isn't often associated with straight men working in menswear fashion in New York unless someone is being objectified. Maybe its because the word occupies the realm of women and gay men, a domain, sometimes, void of violence. So imagine our surprise when menswear designer Brian Wood hit us up with Beauty Awakened, his new look book for Spring/Summer 2013, earlier this week. There it was, beauty: imagined by a straight, white guy with roots in Brooklyn and Jersey.
For Spring/Summer 2013 Wood, recently recognized for his outstanding work by and with the Black Alumni Association of Pratt Institute, where he graduated in 2001, turned to nature for inspiration as well as renewal. And what embodies both concept and action than a monarch butterfly fresh from a chrysalis? As objects and products of nature, beauty, awe and terror are inspired by these fragile, segmented insects.
Beauty Awakened is far from fragile, however. It is soft yet masculine, kaleidescopic, deceptive and subtle. It arrives after Reborn Suicide, Wood's last collection, and features the image of a monarch butterfly's wing turned inside out, and mirrored to form a camouflage, that instrument of war and survival detrimental to modern metropolitan males. The pattern is repeated throughout the collection as prints on shirts, jackets, trousers and shorts; and made from unconventional materials for menswear: lace. Heather Grey, Oatmeal, Terracotta, Jade, Blue Stone and Slate are dominant colors of the collection. Fabrics like cotton blend loop back French terry knit, water repellent Nylon/PU blend, digitally printed cotton batiste, over-dyed digitally printed cotton canvas, yard dyed cotton woven jacquard, and dyed cotton Raschel lace are prominent and is in line with Wood's portfolio of experimentation with fabrics. Key looks from the collection include: a water repellent snap front lab coat with button down collar, a cotton blend loop back French terry inside out crew neck with raw edge detailing and contrasting front pouch pocket, an exaggerated dolman sleeve bomber jacket with contrasting stripped rib knit cuffing, and hand bleached and dip-dyed T-shirts in 100% cotton.
The collection was designed in NYC where Wood lives and works. (His studio is in Midtown West and he's lived in Washington Heights for over nine years.)
All fabrics were imported. Check 'em out below.