Rolling a blunt is a work of art and R. Prince, a filmmaker based in Harlem, with pictures and anecdotes, shows you how do roll like a pro: how much saliva to use, the different kinds of smoke, dro, haze and so on.

Here's a peek:
"There are many ironies in life and one of them [is] the female blunt predator. These pretty, dick teasers, will smoke up all your weed and your chances of getting some ass is slim, to none. What can you do about these trifiling, greedy hoes? Hell bent on smokin up all your goddam weed. Actually, nothing. Why pass up the chance to spend sometime with a honey. Sure she's smoking up all your weed but hey, if you smoke shorty out with some potent weed, and you play your cards right, you might get some ass. I said slim to none. I didn't say impossible. Lets just face it fellas, we're suckers for the females. And lets keep it real. Any man that spends the majority of his time with other men might be suspect. Break away from your fellas every now and then and support your local female blunt predator. They need love too."
-page 66, Female Blunt Predators
And:
"By placing a drop of ketchup on your lip and letting it dry for five minutes, will give the appearance you have a cold sore ."
-Page 68, Fake Cold Sore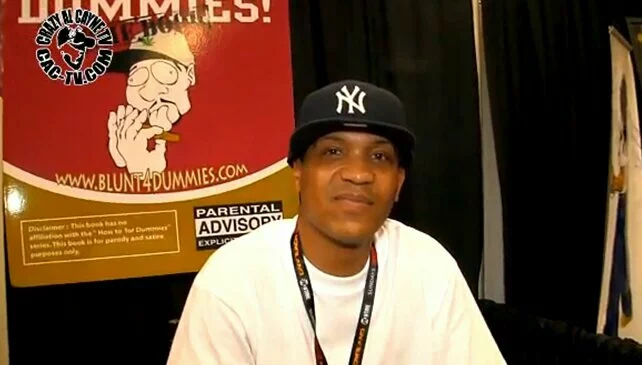 I met R. one midday infront of Virgin on Union Square on my way to WholeFoods. R was surrounded by all these uptown mamis who wanted his autograph. They looked like they were 14 going on 12. One chick bought ten copies at 10.00$ a pop. Said they were for her friends. R was having a field day, his copies were down to single digits.
A slim, soft coverbook with ample illustrations and gratuitious punctuation and grammar problems, HTRABFD is funny and comments, indirectly, on the empowerment of self-publishing and the mores of hip-hop culture, if not the urban life of a puffer. An act of God prevented me from breaking out my red pen and yokin R cuz of the poor editing…maybe things will get better in the second edition.
Anyhow, even though it reads like an idea that, most likely, came while dude was picking out seeds from his carpet, I'd recommend this slice of life for your summer reading right next to Ricardo Cortes' JUST A PLANT just cos they're weed related and because, of the two books, Cortes is the most thought-out and scientific.
Rico is a friend of mine, met him back in like 2000-2001 through a photographer friend named Sara Press. Since then we've kept in touch via illustration projects and art shows, and even job recommendations when things got rough for me awhile back.
This was what I wrote when the first edition of Just A Plant came out.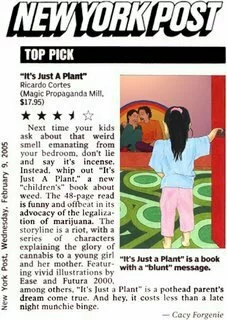 And I stand by it. Tho I must confess that it seems really retarded that, ankle deep, in the new century we're still dicussing whether or not marijuana has any benefits; while in other countries it's as ordinary as the salt and pepper in a kitchen cabinet. In India, the largest democracy and film producing country on the planet, marijuana is sold by the government on street corners from go-carts in the form of smoothies and cookies. In fact, alcohol and heroin are the only substances that have been banned consistently over there. This is a country described by its own citizens as the ashtray of the world.