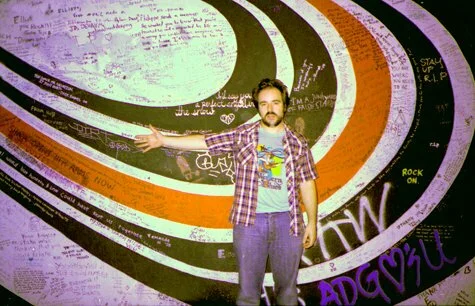 Brooklyn, New York  photographer Matthew Salacuse is the photographer responsible for the haunting cover photo of Queensbridge rapper Nas' 10th studio album, 'Life Is Good.' Via email, Salacuse gave us the  lowdown behind the shoot.
For the uninitiated, Salacuse has photographed many of your hip-hop heroes: Ghostface Killah, ODB, Ceelo Green, Mos Def, M.I.A,  Pusha T and Jim Jones, to list eight.
A brilliant self promoter who is both humorous, creative and skilled, Salacuse specializes in portraiture and editorial work. Reebok, New Era, MTV, Cartoon Network, Entertainment Weekly and more have commissioned him.
Lets get into it.

Please describe how you landed the Life Is Good gig.  Was it through your agent?
First let me say what an honor it was to be awarded this shoot. I grew up in Brooklyn around the same time Nas dropped' Illmatic' and it had a huge influence on me as it did the rest of the hip hop world.
I have been trying to work with the people at Def Jam for a while on the 'right project' and my friend Alex Haldi, who is also the art director, called and said 'I think the right one has come,' I knew exactly what he was talking about.
Where did you photograph Nas? On location, on a set?
We picked some great locations with Nas' help for this shoot. We started with 6 hours of shooting in Long Island City (a literal stones throw away from Queens Bridge Housing Projects) and then on to a fancy hotel in Mid-Town Manhattan to do the more glamourous set ups. I am sure you will be seeing more from this shoot in later days
Was this your first time working with Nas? If no, please tell us when you worked with him previously.
I shot Nas before for a Canadian hip hop magazine called POUND. He was a good subject then (see photo at bottom). I asked him to do a 'King Of New York' shot and he knew exactly what I meant and walked himself over to the balcony for this epic shot.
Whose idea was it to include Kelis' green wedding dress in the shoot? Was this something suggested by Nas, you or the AD?
It was all Nas' idea. We had already had the creative meeting as it was set to be something else. Then the night before the shoot, my phone rang and it was some lady who said "please hold for Nas." I was like, um….
We talked for 30 mins about this one shot that he wanted to do with the wedding dress and him wearing a tux. He specifically mentioned that he wanted to strike the same emotional chord that Marvin Gaye's 'Here My Dear' album hit. I think he nailed it!
What music did you play on the set if any? Did you hear tracks from the Life Is Good album?
We did not have a lot of music on set because we were so focused. But when we did play music, Nas requested 'anything Biggie.' And so we did
What is next for you? What new projects are you working on if any?
I have a lot of projects on the hot stove but I can't really talk about them. But if you would like to keep pace with what I do, you can look here at Salacuse.com.