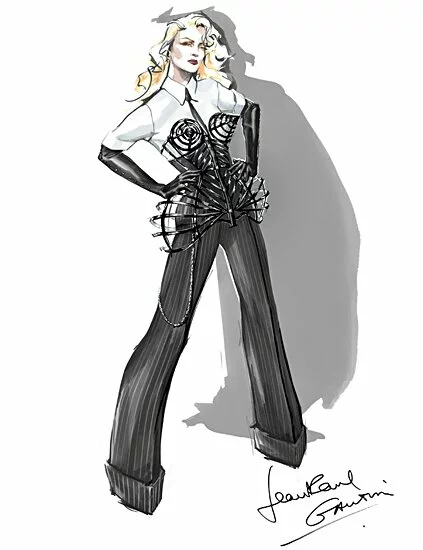 Madonna Tour 2012:  Kicked off today in Tel Aviv and sketches of her costumes have been released! Jeremy Scott, Jean Paul Gautier, Alexander Wang, Arriane Phillips, Miu  Miu and Prada contributed looks to what will be an amazing show!Making a comeback of sorts is Madonna's iconic conical bra designed by Gaultier for her Blond Ambition tour.
"We played with the ideas of a suit and a corset. But the corset is now like a cage," Gaultier told WWD. "What I have done this time is a nod to the conical bra corset of the Blond Ambition tour but reinterpreted in 3-D, in patent leather on the outside with metallic leather on the inside. It's all about masculine and feminine, Madonna and Jean Paul Gaultier classics reinterpreted for 2012."
With contributions from Alexander Wang and shoes by Prada and Miu Miu, MDNA looks like it will be a feast for the eyes as well as ears.  Dolce & Gabbana made custom pieces for Madonna's back-up dancers!
Via MTV STYLE:
Jeremy Scott also got in on the action by outfitting Madonna's backup dancers in colorful Jeremy Scott x adidas floral print pieces Other highlights include: Prada creating high-heels for the male dancers, an Arianne Phillips Joan of Arc-inspired costume made of metal mesh and Swarovski crystals, and a red and white Majorette ensemble with a mini cape. "This show is epic and bigger than anything she's done before. There are many more costume changes. We're taking 700 shoes on the road. Madonna changes outfits seven or eight times and the dancers change 10 to 15 times, depending on the dancer," Arianne told WWD. WUT? To hear even more deets about Madonna's MNDA tour costumes (and to peep more designer sketches!) head on over to WWD.
WWD