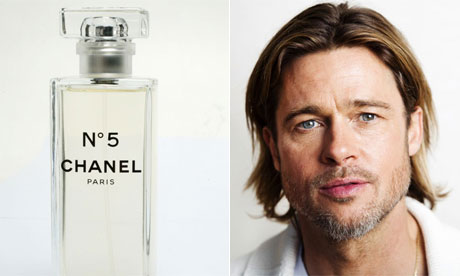 Brad Pitt for Chanel, after Obama for gay marriage,  was the other big news that threw people off yesterday.
For the first time in its history, iconic fashion brand Chanel will use a man to promote its products, specifically its perfume Chanel No. 5.  That's right, Mr. Angelina Jolie will be schilling for Chanel!
The announcement was made via Twitter yesterday and so far the response has been a mixture of ridicule because beauty campaigns are associated with women, not men. Pitt joins  Nicole Kidman, Vanessa Paradis, Audrey Tautou, Ali MacGraw and Lauren Hutton as the face of the perfume. According to E!, Pitt will earn six figures for the ads which will run abroad later this year. Shooting starts in london, where he has a home, this week.
The announcement came on the same day President Obama came out in support of gay marriage, interesting considering that Brad and his paramour Angelina have said they will only get married when gays in America are allowed to.
The two are expected to tie the knot soon and the press Chanel will reap will be enormous.
What do you think? Can Brad pull it off?