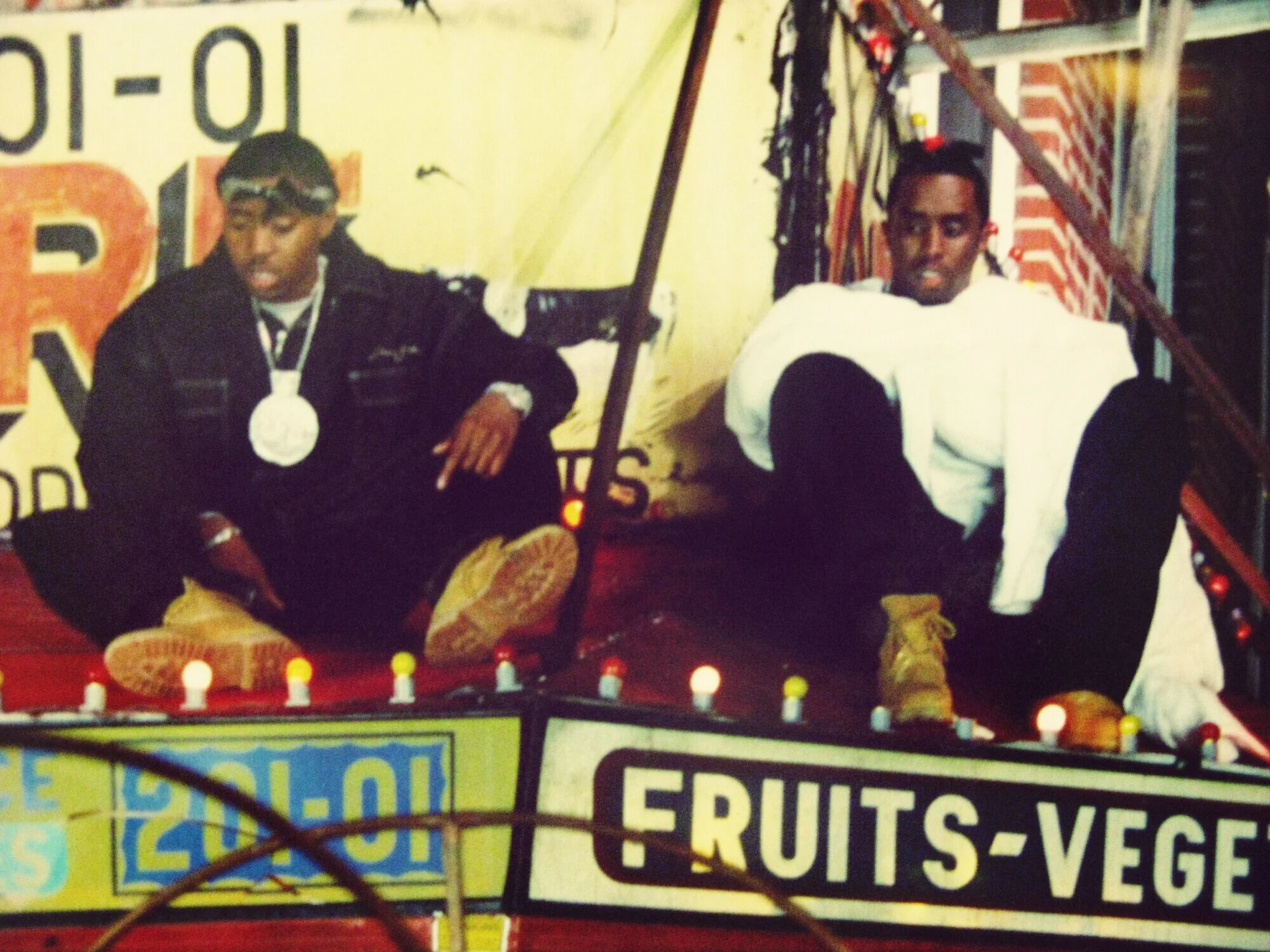 Nas and Puffy are having a moment. For Nas, the Queens MC is enjoying the 20th Anniversary of his seminal album Illmatic which recently received a film treatment in the form of a documentary titled Time Is Illmatic.  It premiered last night at the Tribeca Film Festival in NYC and  film traces the making of Illmatic through interviews and archival images.
For Puff, the Bad Boy mogul is coming full circle.  He recently changed his name back to Puff Daddy,  the moniker we knew him by when he broke out as a star after the death of his friend Biggie Smalls. Puffy is also having a moment because he  launched his TV channel Revolt in October;  and because of his failed  $200 Million bid for Fuse TV. He was outbid by his former lover Jennifer Lopez.
Which brings us to today and the above image of the two men photographed by me in 1999 on the set of Hate Me Now,  a video and song that will live in infamy.
I was in my mid 20s, living at home with Mom in St.Albans, Queens.  Somehow I figured out that there was a video shoot half a mile or two away in the next town, Cambria Heights.  It was late at night and I walked with my camera, unsure what to expect. When I got to the location, it was pandemonium.  The streets were packed with fans and equipment.  It seemed like everyone was there to get a look at the rap stars. Anyhow, I tried to photograph Nas and Puffy as much as I could before security escorted us of the set. The results were interesting. I managed to get a few soft focus images but the above image was the best of the bunch.
Shortly after the video was shot and aired, controversy courted Nas and Puffy. In the video the men were crucified in the streets. Puffy, a Catholic, asked the director Hype Williams, to cut his crucifixion scene before it aired on MTV. Nas' s manager Steve Stoute, allegedly, sent the wrong edit to the TV station and Puffy flipped, attacking Stoute with a champagne bottle in his office.  Stoute sued Puffy and an agreement was reached out of court. Here's Nas' retelling of the song and it's controversy via Rolling Stone.
It was a track D-Moet Produced for Foxy Brown, and she didn't want the record, she didn't like it. It fit with my album, I Am…, so I did the D-Moet track and it sounded perfect for Puff to be on, so I gave it to him, went to the studio, and he rocked it, knocked it out. I wanted him to talk that shit on there, because that "Victory" record was my favorite record, with him and B.I.G., and I just wanted him to talk some of his shit on there. I had him screaming a whole bunch of wild shit on here, and cats were slam-dancing to it in New York. It was really crazy, out of this world. At that point, I started wearing a huge chain, and I think me and Puff at that point started that bling shit and took it to the next level, and we did the video, and it was out of this world.

There's a play in New York City where a black man played Jesus, and caught a lot of flak. I think, even the mayor at the time, Giuliani, was against it. So my thing was I wanted to be crucified like Jesus in the video, to get back at all those people that don't want to see a black man doing his thing. Me and Puff got hammered to the cross, but after Puff expressed his religious beliefs and speaking to his pastor, he wasn't ready to take that stance, so it was really my idea anyway, so we took his part out. For some reason, I think [my former manager] Steve Stoute let it fly with Puffy still being crucified to the cross, so there was that fight at the office, where Puff jumped on Steve or some shit like that. Both of them were friends of mine, so I kind of stepped in and squashed the whole thing, and it's all in the past. Just growing pains. We were all growing up. That brings back a lot of memories. Even when I throw it on onstage now, it still kills.
I've had this image for years and I'm offering limited edition prints of 20 at $100 each. The size of the print is 11×14 but I also have 8x10s at $50 each. If interested in purchasing hit me up at [email protected]  All transactions via PayPal.