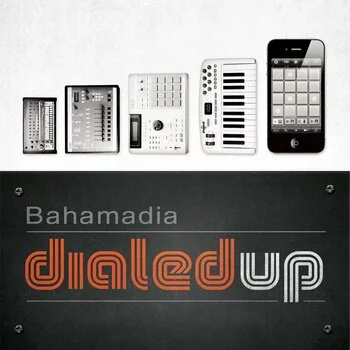 Twitter was abuzz last night when it discovered new music by rap genius and Philly native  Bahamadia. Titled "Dialed Up", "The Three The Hard Way" spitter and Gang Starr Foundation affiliate, whom I first discovered and fell in love with in the 1990s after she appeared on the soundtrack of Girls Town ("Biggest Part Of Me", 1996); Sweetback's self titled debut, ("Au Natural", 1996)  and on Roni Size and Reprazent's ("New Forms", 1997), to list three, Bahamadia's new song was made entirely on a mobile phone. Kollage, her debut album, with  production by Guru and DJ Premier of Gang Starr, and BB Queen, its EP follow up, sealed my love of the artist and her music. "Dialed Up"' with its polished production and smooth, truthful lyrics, reinforces that love.
Discovering Bahamadia for the first time in the late 1990s,  one had the sensation of encountering something new if not futuristic. The tone of her lyrics, her deliverly, the content of her raps, her album cover arts, her choice collaborators, were (and still are) stellar, couched in an Afro-Futurism comproable to an Octavia Butler novel whose heroine is fierce, embracebale, global and inclusive. Is it any wonder that Bahamadia inspires awe from rappers of both genders, and fans across languages and culture, 20 years deep in the Game?
With "Dialed Up", 11 minutes and 11 seconds of new music is distilled into 12 to 13 chapters of storytelling over danceable, thumping, head nodding beats that alternate between chilled out, kinetic and jazzy. Its architecture, made entirely on app in 2013, written, produced and mixed by her, speaks volumes of its construction as well as its deliverer: we are finally ready for Bahamadia and her rhymes about self preversation, a lover's recidivism,  advice to young girls, critiques of the music industry, meta commentary on the song's construction, self love, love of family, self sufficiency and much, much more.
Listen to the new era and download here.
"Everything about me is great and fresh," Bahamadia rhymes, "I'm blessed, blessed."
Yes, she is.
credits:
released 28 March 2013 
Executive Producer: Bahamadia
Pre-Production Session Conducted by Bahamadia & Caliph-NOW @Arz Nova Studio 
Edited and Mixed by Bahamadia & Chill Spector
Mastered by Chill Spector
Cover Art Design & Layout by Panek of Illvibe Collective 
Concept for Dialed Up was conceived by Bahamadia courtesy of B-GIRL RECORDS, LLC.