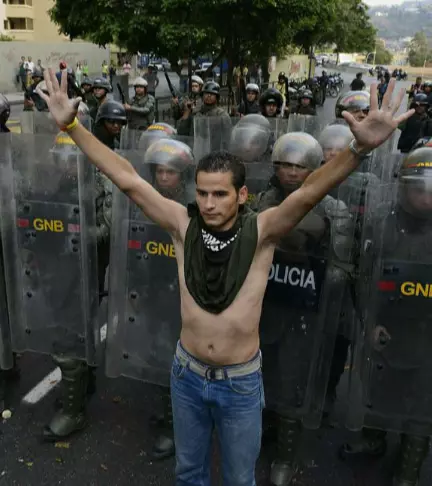 Venezuela is going through some shit right now. There is bloodshed and anti-government protests in the streets days after the South American and oil rich nation held its first election after the death of Hugo Chavez.  The winner of Tuesday's election, Nicolas Maduro, 50, won by less than 300K votes. His challenger Henrique Caprilles, 40 and backed by the US and the Organization of American States, is demanding a recount.
Maduro isn't having it. Here's what he said on State TV:
You are not going to the center of Caracas to fill it with death and blood," the 50-year-old said in a nationally televised statement, while calling his own supporters into the streets.

"I'm not going to allow it. I'm going to use a hard fist against fascism and intolerance. If they want to overthrow me, come get me. With the people and the armed forces, I am here," he said.

The 40-year-old Capriles shot back on his Twitter account, blaming Maduro and his government for the violence.

"The illegitimate one and his government ordered that there be violence to avoid a vote count! They are the ones responsible," he said.

Tensions have soared since the National Electoral Council — dominated by Chavistas — proclaimed Maduro the victor by a narrow 50.75 percent to 49 percent margin in the snap election to replace Chavez.

Capriles urged his supporters to march peacefully on the council's multiple regional offices, and Maduro — who had been acting president following Chavez's death last month — ordered his backers to mobilize as well.
Photos of the chaos below.
More