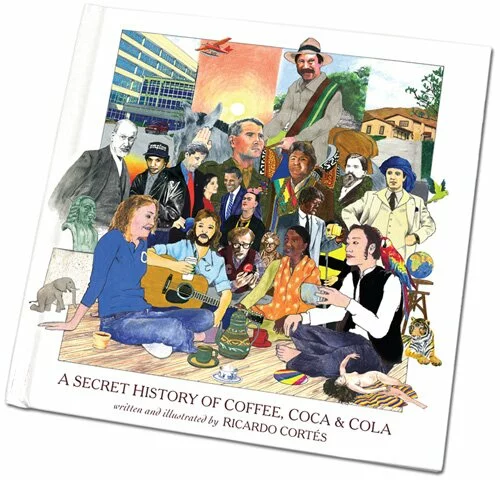 Back in August we teased you about Brooklyn bad ass, artist, historian, writer, designer, publisher and Bill O'Reilly defeater, Ricardo Cortés' new book, The Secret History of Coffee, Coke & Cola.Cortés, best known for his marijuana children's book, It's Just A Plant, and for illustrating last years rabidly popular Go The Fuck To Sleep, sent us a note via e-mail today announcing the book's launch!

A Secret History of Coffee, Coca & Cola is an illustrated history of coffee, coca leaf, kola nut, Coca-Cola, caffe-ine, coca-ine, secret formulas, special flavors, special favors, and the future of prohibition. It's a tale of cocaine factories in Peru and New Jersey; secret experiments at the University of Hawaii; and a peek at the files of U.S. Bureau of Narcotics commissioner Harry J. Anslinger (infamous for his "Reefer Madness" campaign against marijuana, lesser known as a collaborator of The Coca-Cola Company), according to its author.
"I visited Hawaiian coffee fields, a Bolivian coca farm, a cocaine manufacturing facility in New Jersey, and the US National Archives in Maryland to see declassified records of the Federal Bureau of Narcotics," wrote Cortés, explaining that it took six years to complete the research that went into the new book, adding: "I've sort of been drawing this book since I was 8 years years old." Dated proof is below.
Head over to CoffeeCola.com where you can get a sneak peek of the book. It's praises are being sung and championed by some fine thinkers and journalists. You can meet some of them at talks coordinated in support of its publication. Cortés describes the events below.
NYC: St. Mark's Bookstore with Jeremy Scahill.
"A discussion with the estimable journalist Jeremy Scahill (The Nation, Democracy Now, author of Blackwater: The Rise of the World's Most Powerful Mercenary Army). Come hear a pro and an eager rookie talk about investigative rporting, digging, and obfuscation."
St.Marks Bookstore, Wednesday,  November 28, 2012.  7PM Info
BROOKLYN: Book Court with Trevor Paglen
"Trevor Paglen has documented American military Mystery through uniform patches of the Pentagon's "black world" (think Grateful Dead and Iron Maiden). His latest work is headed to space this month. Imagine the conversation we'll have. And you can join too! We'll talk about Art. Journalism. Creativity. Activism. Dude, is it all one?"
Tuesday, December 11, 2012.   7pm.     Book Court, Brooklyn, NY.   Info
HARLEM: La Casa Azul
"UPTOWN. Going solo for dolo, with a reading from the book, and I might even bring the Magic Propaganda Mill up in here. At the least I'll be drinking Coca-Cola and giving away copies of Jury Independence Illustrated."
Friday, December 14, 2012.   7pm.     La Caza Azul Bookstore, East Harlem, NY.   Info
BOSTON: Brookline Booksmith. "Tonight, I might feel like reading a few letters of Ralph Hayes (former VP of The Coca-Cola Company) to his colleague of the Narcotics Bureau, Harry "Reefer Madness" Anslinger."
Thursday, December 6, 2012.   7pm.     Brookline Booksmith, Brookline, MA.  Info
WASHINGTON, DC: with Sanho Tree and Coletta Youngers
"Drug war nerds, lovers of South America, and anyone interested in how Coca-Cola worked the U.S. & U.N. to secure privileged access to an internationally prohibited leaf: this is your night. Sanho Tree and Coletta Youngers are scholars and activists on drug policy reform, two awesome people to talk to about efforts to dismantle the archaic coca ban. January 10th happens to be the deadline for parties of the 1961 U.N. treaty banning coca to settle an old score—we're going to talk about that and I'll ask Coke what they think too 'kay?"
Wednesday, January 9, 2013.   6:30-8pm. Busboys & Poets, Washington D.C.  lnfo