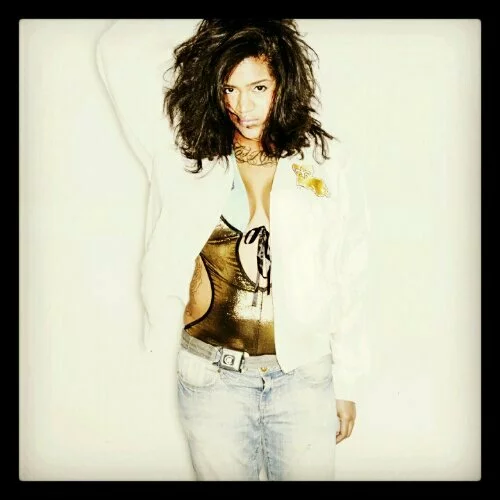 Atlanta based artist, educator and mother Carla Aaron-Lopez' Long Live The Dirty South show opened last week after months of planning and a successful Indiegogo campaign. Curious about her practice, we asked our Twitter friend and the ATL native to document her thoughts leading up to her second solo show opening at City of Ink., a tattoo parlor. Buckle up!
April 2, 2013
30 DAYS TO GO: LONG LIVE THE DIRTY SOUTH
I've been ignorant this past month. I ain't done shit except raise my son. That's not a slacker job but still. I got work I should be doing.
In 30 days I'll be having my second solo exhibition as an emerging artist. Technically, it's my third solo but I'm not sure if Atlanta will ever know that. No one really knows me here and I damn sure haven't proven myself to myself for that to even happen.
Since having my son, I can't help but to think everyday about how I want him to know who I am. So far, I've learned that I am a pop culturist in addition to artist and mother. I had to look the meaning up. No lie. A culturist is an advocate or devotee of culture.
Simple. I've been doing that for 30 years. Watching a lot of fucking movies, music videos and television. Browsing the Internet since it landed into American households. Listening to a fuck ton of music from all across America.
In America, we ain't got nothing but time to complain about some shit like we been participating. Example, I didn't give a fuck about Beyonce in 2001. In 2013, she's my bitch because she has proven herself. Man. I can't talk sideways about that woman. I haven't worked as hard as she has. Maybe we've had the same amount of straight relaxin' chillin' days but they were shared in two different contexts. She got money and I ain't got any. How she relaxes ain't like how I do. Therefore, I can't talk shit about her job. She knows her job well and after ten years, I FUCKING REALLY KNOW MINE.
I am a creator. Mostly in the realm of visual communication because I like to make things that make people talk and have conversations. I love writing but sometimes my brain gets too empty to do it. An empty brain is the worst form of writers' block. But hell, I stopped believing in writers' block when I grew up and got a valid opinion on things. When you write, either you know what you're talking about or you don't. You may ramble and rant. I do. Then I erase it and produce something better.
All in all… I make work and I write about it.
In 30 days, I've got to figure how to make it all make sense because I been on. I just realized that.

Fuck it. I'll let Beyonce tell you how I feel right now. Bow down. I'm coming for the crown.
April 18, 2013
PAUSE.
I'm sitting here wondering where the mood came from. I just paused. On everything. It happens often but this is the first time I'm reacting against it. My show is coming up and I decided to go against what I normally do and joined a social media driven health and fitness challenge. But somehow, I paused. And it bothered me.
As the show gets closer I think more and more about what kind of impact I wish to make. Wish. Wish is a bad word. This is why I'm angry that I paused. I sit here wishing. Wishing forces me to pause. For long periods at a time. I've planned on doing two things that will force me to confront my bad habits. Prosrastination, laziness, ill planning, the kind of shit folk never want to confront about themselves. The easy answer is change but fuck, you've got to work on that.
The show date is getting closer and I've still got collages to make, foods to change and minutes of exercise to put in. And I'm _____.
Just for my own sanity, I've got to make this right or else I've done a whole lot of bullshit for nothing. And it doesn't even have to be like that. The way I figure at this point I have no choice but to prove and go home.
Mainly because I'm ready to move on in life. There's another way of creating and thinking now. New philosophies and ideals have blossomed forcing me to just see it ALL a little differently.
Even my own work, worth and lifestyle.-
all hail king carla

May 1, 2013
ANXIETY
The show is around the corner and every time these events come around I get super nervous. I had a conversation with my dad about it last night. He's never really been a father. I would say he's just now building his momentum into that. Cool. It took him 1.5 hrs to tell me "Fuck it. It is what it is but don't be nervous about the show. You know what you want to do. You've got the plan. Now execute it." He did make me feel better. Instead of trying to pull together some more shit I need to concentrate what I have now. Being an artist takes more than most believe. It's not just simply picking up a paintbrush and going HAM on a canvas. That just lets me know you got some shit on your chest you need to get off. I see this life as my job. It is my job to observe, research and create from what I've learned. These collages are my babies in addition to my real babies (my husband and son). They have allowed me to live out a few more fantasies that I have. I created a world for niggas to take in based on shit niggas like. That statement seemed easier to say that to explain what I went through in order to create collages with pictures of black girls and the cosmos combined.
My sources of inspiration came from all over the place. I originally wanted to explore mythology and why I didn't know much about African mythology. After awhile, I realized that I didn't care and looked into my culture for the mythology I was looking for. I had all the elements I needed such as the universe, a man, a woman and how these types interact. I covered the story over with details of the dirty South and science fiction. Lastly, I reversed the totem pole of power centering myself as the force of power behind these mythical creatures on glossy paper. If pop culture is what has been my main influencer for the past 30 years then I will continue to examine black youth culture and how it intersects with the fringe and center of modern society. Culture is a reaction to a particular subject that a group of people have agreed upon that they like. We all agree that we like rap music therefore we participate in notions of rap music. We celebrate its attitude and charisma. We admonish those that rip it off.What I've learned is that a culture that I've grown to love has been ripped off but has also evolved into something else. Nothing stays the same forever. As much as I hope to change being so nervous when I have solo exhibitions, that emotion will never change if I never move on. Feel me? LONG LIVE THE DIRTY SOUTH is my requiem for an era that has returned to its grassroots.Every now and then, when you're in the dirty South, you'll see glimpses of a bygone era. Booty shake contests will not look like something in a music video. Love in the strip club is real if you squint hard enough or go at a certain time. And the night sky is still so clear that the stars is what a nigga is trying to reach and I'm not talking about the ones we see on TV.See yall soon.Tagged
May 2, 2013
ALMOST READY
I've procrastinated long enough. Now I sit here alone in a photograd room printing. I'll probably end up having a framing party when I get home. I don't know. It's less than 24 hours until the show and I'm still paranoid that no one will show up. But I know people are going to show up. I wish ALL of my friends could attend but I suppose that's why artists have shows in other cities. Hell. That's another beast to conquer another day. Today I focus on getting these prints framed and covering up this God awful vinyl lettering that's on the wall in City of Ink. It's stuck on the wall and no one has figured out or committed the time to taking it down. All I can do to cover it tonight is to print my artist sign. LONG LIVE THE DIRTY SOUTH! is what it will say. Including folks names that contributed funds to the project. You always give a shout out and present to the people that believe in you and give you money for your dreams. It is what it is. Besides, wouldn't you be angry if no one acknowledged your help? I would.

I'm so antsy from no food and a lot of caffeine. I wish to go home so bad but I can't right now. I wish to be lazy. I wish my son was here instead of with my mom and grandma in NC. I wish I was there with them. But the show must go on. All I want is a sandwich right now. That would be a cure all.
Two more prints to go. Maybe I will go home and frame there. One way or another, it seems like I will get home tonight around 10p. Blah. Whatever.
I'm finishing this shit tonight. I really don't want to get up early tomorrow. Tomorrow will be another story and I will make even less sense than I am right now.

Just keep going, and don't look back
And look forward from where you're at
There's some jealousy in your rear view
Wave hello, hello, hello…
Push that pedal to the max
Count that money that's in your lap
There's some jealousy in your rear view
Hello, hello, hello…Hello…Hello…Hello…
Wave hello, hello, hello…

May 3, 2013. Opening night.
Carla Aaron-Lopez is an artist, writer, educator, mother and intellectual based in Atlanta. Follow her on Twitter or see more of her work Tumblr