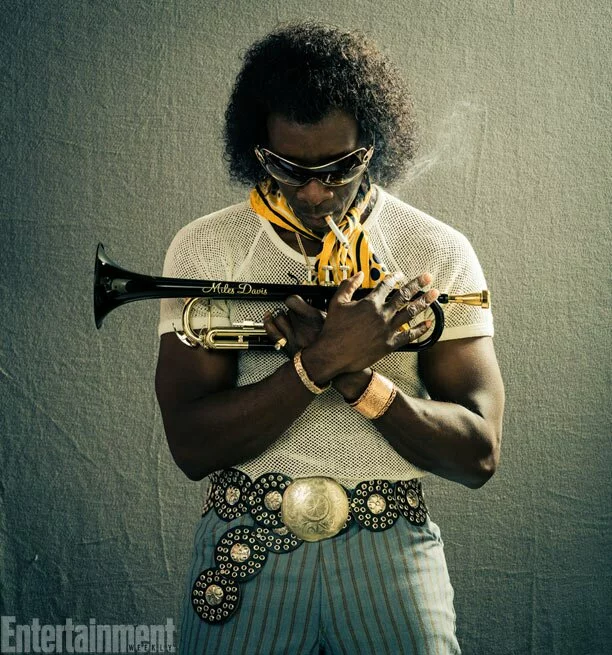 Don Cheadle, he of Iron Man, Hotel Rwanda and House of Lies fame, is trying to make his Miles Davis biopic, Miles Ahead, happen via Kickstarter, recently adding drawings and paintings by Miles as incentives for backing his film. So far people are biting and by the looks of the image above, you should bite too. The belt, the trousers, the jheri curls, the monogrammed horn. Son.
EW spoke to Cheadle about the project. Here's an excerpt.
ENTERTAINMENT WEEKLY: How does it feel to finally begin production on Miles Ahead—to be in costume and begin this process?
DON CHEADLE: It's a great shot; it's kinda cool, huh? I attribute that to my department to more than anything I'm doing: That's hair, makeup, wardrobe, and props. But it's cool to be sitting on it and have it all begin. At this point, with everything that's happening, its real and surreal and hyperreal and every version of it that I can think of.
There's a sense you've been working on this for a while. Tell me about your exposure to Miles Davis—was he someone you were exposed to at a young age?
His music was definitely a part of my life very early on, thanks to my parents. And I was fortunate when I was young to have music teachers in school that also introduced us to jazz in general. I was maybe 10, in fifth grade, when I was fortunate enough to be introduced to the sax at a school which had instruments because we couldn't afford one. So I started playing sax, and was really a fan of Charlie Parker and Cannonball Adderly. And through Cannonball I found Miles.
Do you remember maybe one album around the house or a song that impacted you most as a kid?
My dad's favorite album was Birth of the Cool—that was always playing in our house as I was growing up.
I remember the Porgy and Bess album by Bill Evans and Miles Davis that was in my house. Man, that album cover was so iconic. His picture isn't on the cover—it's just a man in a crisp white shirt and a woman next to him, pulling at the trumpet, which is very emblematic of the story we're telling in a way. Him holding on to the music and and in our story, Francis, the love of his life, that tug between the music and his love, and where they connect and how they move away from each other. That was my introduction.
More