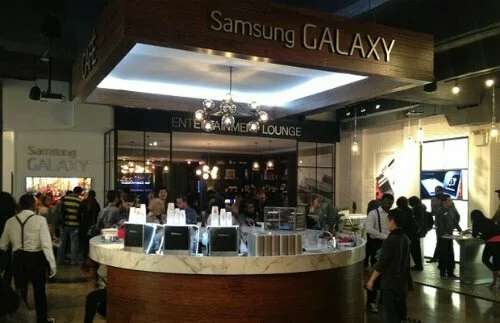 Black Friday is officially upon us and Samsung Galaxy Studio- a pop up shop in Soho and around the country created by the electronics giant-will probably give you the best  Christmas shopping experience this season.This isn't an ordinary pop up shop, however. Samsung went all out and created an immersive experience with its products and allies.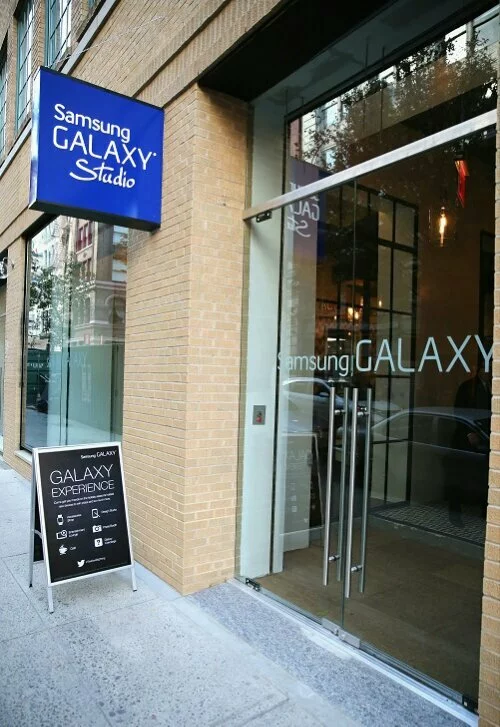 The shop in Soho I visited, 130 Prince Street, is stylish in design and incorporates all the latest Samsung gadgets including the Galaxy Gear, the Galaxy Note 3, and the Galaxy 10.1 tablet. NOTE: This post was written on a Note 3.
Before entering the store, users are greeted by a giant multiscreen wall with an animated view of NYC. Once inside you come to a Piper Lime Boutique and an area decked with tablets. Need ideas? A Piper Limer will help you customize and shop.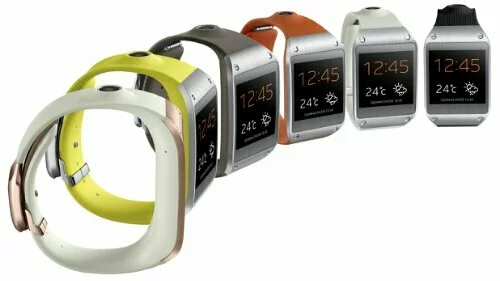 Further in, to the left, is a station of Galaxy Gear watches decked out in all their Dick Tracy flavas of orange, lime, gold, silver and black.  Opposite the Gears is a Concierge desk where Samsung Associates can help you sync and program your devices. Directly in front of the Concierge desk is a circular Illy bar serving free coffee and mini cupcakes you can order via a Galaxy Note 3 or 10.1 tablet.
After you grab your coffee, head straight ahead to the living room area where you can imagine and experience Watch On, a software/app Samsung is pushing for living rooms via multiple devices. The is area is decked with chairs and TVs you can control with your phone or tablet. Grab a seat, relax.
Wait, there's more: I made a cup with a one of my old graffiti tags.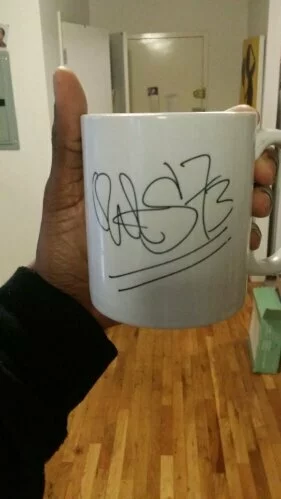 When I returned a week later, the cup customization area was upgraded to a T – shirt printing station. Yes, you can design a T-shirt, or a mug, using your Samsung device. There's a 10 to 20 minute wait but it's worth it cuz the quality is good.
If T-shirts and cup art ain't your thing then head to the photo booth and take some photos.
The whole experience is relaxing and the Samsung Associates will breezy walk you through with gadget demos.
The whole set up is impressive. So much so you won't have to cut a bitch while Christmas shopping this year.