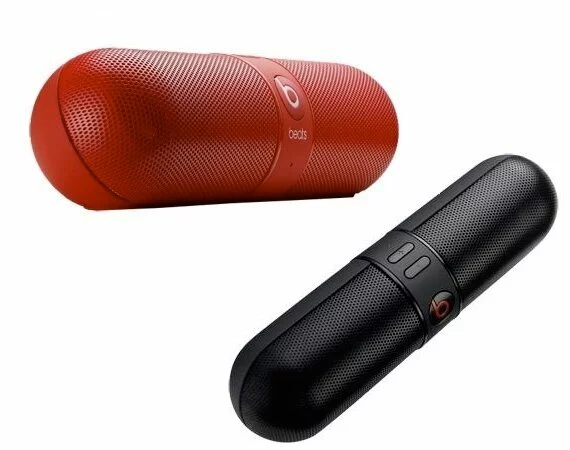 Long story short, Dr. Dre is IN for electronics but that Detox album is still a pipe dream and therefore OUT. That's because the good doctor is on his way to making his dream of becoming the Steve Jobs of hip-hop come true.
Joining partner and Interscope-Geffen president Jimmy Iovine onstage at the Beats store in Soho yesterday the pair, after an introduction by Beats president Luke Wood and VP of marketing Omar Johnson , unveiled the company's newest technological music marvel after breaking with Monster: two new headphones and a portable, wifi and bluetooth equipped speaker system dubbed The Pill. These three products are Beat's own efforts in manufacturing and R&D after Beats parted ways with Noel Lee and Monster last year after a three year partnership and dominance in the personal acoustics category. The Pill is exactly what it sounds and look like, a portable device in the shape of a giant pill. It only looks difficult to swallow. With a $199 price tag, The Pill aims to be a prescription for those who are seeking a remedy to the tinny sounds escaping other portable, wireless speaker systems; and a viable contender against Jawbone's Jambox, its direct competitor with a similar price point.
Available today in a variety of colors, including red, white, black, the sound of this thing is incredible! We cracked open a red Pill last night in Crown Heights and wished we had this thing at the beach last summer. Laymen and audiophiles will love The Pill for its acute design, it's tremendously sweet and rich sound, portability, price point and long play which is about 7 hours on a charged battery. Design-wise, it appears almost everything was taken into consideration: it's light weight, cords are tangle free but there's really no place to tuck them once you packed The Pill into its cozy carrying case; a line out port affords connectivity to other personal playback options, and an enclosed metal hook to hang the device from a belt loop is included with the packaging. Iovine had his Pill in his back pocket throughout his presentation and no one knew. Regarding the headphones: The Executive is noise cancel at one done well for business travelers who want to look smooth. Those are $299. We skipped the the in-ears, $99.