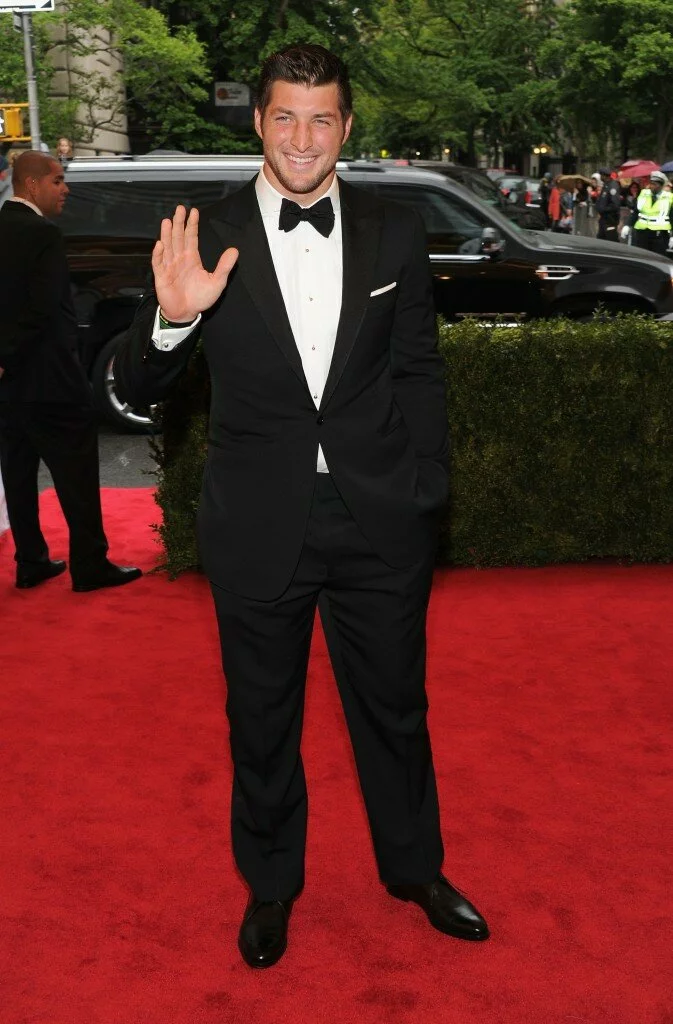 Tim Tebow, Victor Cruz, Amar'e Stoudemire and Carmelo Anthony formed a strong pro-athlete contingent last night at the Annual Met Gala, no surprise considering Anna Wintour's courting; and that athletes have stepped their game up sartorially these past few years, either by force or choice. In Tebow's case, however, the Met Gala was a rite of passage for the new New Yorker.
While the male silhouette is still wack, (why else would Marc Jacobs show up in a black lace dress?) there were a handful of good looking guys in suits. The first one to capture our attention was new New York Jets Tebow who wore a Ralph Lauren Purple Label tuxedo to the event.
Tebow's  suit wasn't really  something to write home about; it could have fit him much better than it did considering how great this guy's body is.  Maybe his religion prevents him from showing it off.
Then there was injured New York Knick Amar'e Stoudemire who is no stranger to the Ball at all. Last year Amar'e's  date was Rachel Roy and he wore Calvin Klein Collection. Ditto this year. Stoudemire's  wide-brimmed hat, perhaps cued by Spike Lee, who attended last week's Knicks play-off game in an ascot and a borselino hat, should've been wider. He looked good, though, his injured arm bandaged in black.
NY Giant Victor Cruz was also at the Ball. Cruz looked sharp in a bald head and dark Tom Ford tux accesorized with a vintage gold pin on his lapel. I wonder many salsa questions he answered last night!
And Finally there was Carmelo Anthony, below with Amar'e who always manges to look like a man-boy no matter what he's wearing.
Above: Victor Cruz.