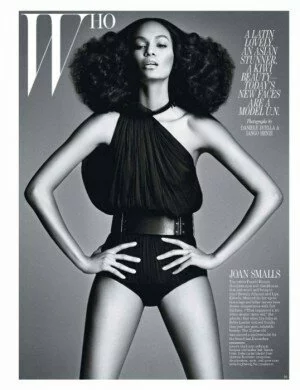 Puerto Rican model Joan Smalls was named Numero Uno in the world of fashion last week by Models.com, beating out Jourdan Dunk, Anais Mali and scores of other women of color. In fact, Smalls was the only black model on the Top 50 list.
Here's why Smalls, who moved to NYC from PR less than a decade ago, got the brass ring according to Models.
With her innate elegance and multi-cultural beauty, Joan Smalls has become the defining face of modern luxury. Her unique blend of strength and elegance has captivated everyone from Karl Lagerfeld, Steven Meisel, and Carine Roitfeld. Her flawless bookings raise the bar for models everywhere. Vogue Italia, Vogue Paris, Pop, i-D, V, W, there isn't a cover she hasn't conquered, nor a campaign she hasn't landed. With the coup de grâce of an Estee Lauder contract solidifying her place as the girl of the moment, Joan moved from phenom to full-fledged powerhouse. Few models have seized their moment in such chic style.
Such platitudes! It doesn't mean women of color are in style in the fashion industry tho.
Models