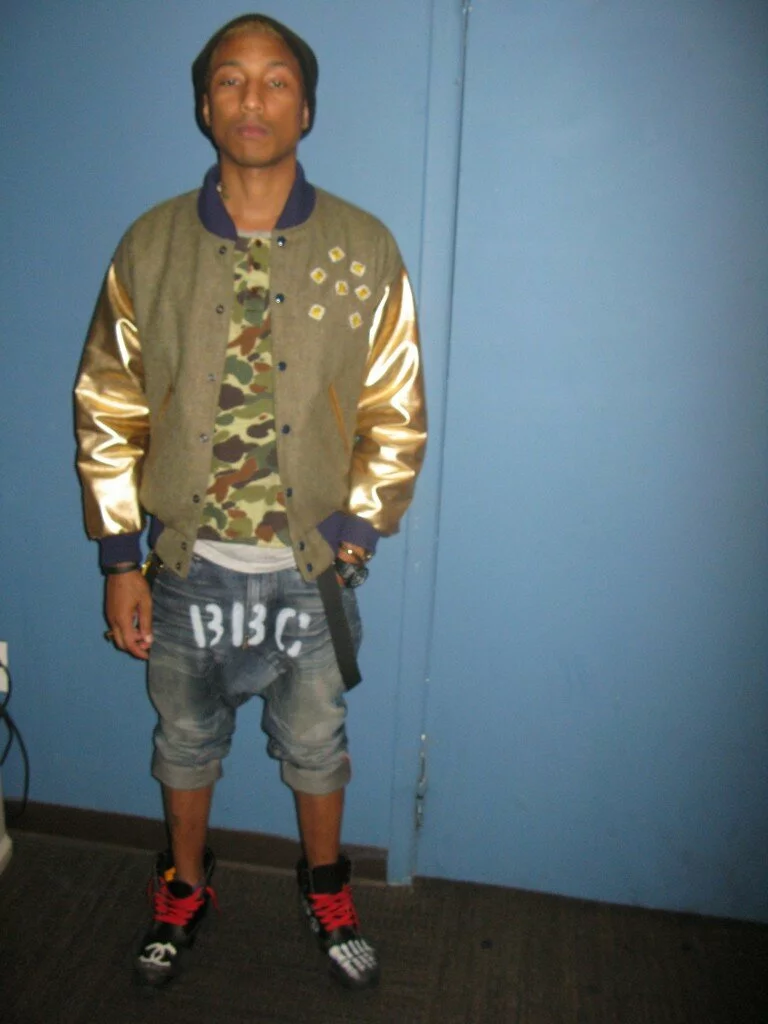 We spoke to N.E.R.D leader and Billionaire Boys Club creative director Pharrell Williams in a second-floor dressing room above the stage at Irving Plaza while Santigold  and her voluptuous dancers opened their set for Samsung Mobile USA's Galaxy Note concert last night. Before Skateboard P proceeded to amp up the audience after Santi brought him out to perform The Lonely Island's "After Party," we grilled P about his thoughts on gay marriage and who's got his ear in music.
The party anthem was a nice nod to the Lonely Island's frontman and Saturday Night Live digital short filmmaker, Andy Samberg, who was also in attendance.
BerbiceMRKT: Can you talk about your musical-relationship with Santigold?
Pharrell: We collaborated on a couple of things before. She hopped on this B-side, a song called "Soldier" for N.E.R.D, and then we did something else together too, "My Drive Thru."
Can you also talk a little about your #IAmOther campaign?
P: It's just a legion of kids who are happy to be different; we celebrate our differences and our creativity; that's all it is.
Speaking of differences, what are your thoughts about Barack Obama coming out in support of gay marriage? A lot of your fans are gay, young kids.
P: Right.
Any thoughts or feelings on that?
P: I make music for human beings, so… I think the President addressed human beings. I make music for human beings, we all do! All of us musicians make music for human beings. There's differences all across the board but, you know, you have a life! You're a human being. I hope that answer will suffice because, to me, at the end of the day, we're all humans. You don't gotta like everything! Live and let live, man!
Music is a bridge that brings people together and the stuff you're doing is bringing millions of people together, not just with music but with science and your work with the community. Now, when you were growing up in Virginia, did you feel like you were different from your peers? You were into skateboarding, you were making art [you were seeing sounds], you were also interested in music. There probably wasn't that many people around you into the same things. Did you feel ostracized being different?
P: No, not really. I mean, being different you're gonna encounter opinions on what people feel is appropriate, what people feel is inappropriate, like just on a basic level of agreement. Whether you like something or you don't: to each his own.
What about when you're traveling? What are some of the differences or hassles you've encountered when you're traveling? You've spent time in Asia, in Tokyo, Hong Kong. [You even have a book with Rizzoli about your travels]. Have you ever been to India?
P: I've not been to India yet. I was meant to go a couple of years ago but then we had a change in plans and I just didn't go.
What new artists are you listening to? There's so many, but who's on your radar?
P: [Pauses, listens intently to Santigold on stage below us] I dunno! I am just thinking of the show right now! There's so many dope ones, though! There's Kendrick Lamar, there's Buddy (that's one of my guys; he's out of Compton), there's Maxine Ashley, there's Alyssa Burnell, there's Lia Burnell, there's Lydia Peck.
Lydia Peck?
Yeah.
Where's she from?
The West Coast.
How would you describe her music?
You guys will see! She's special!