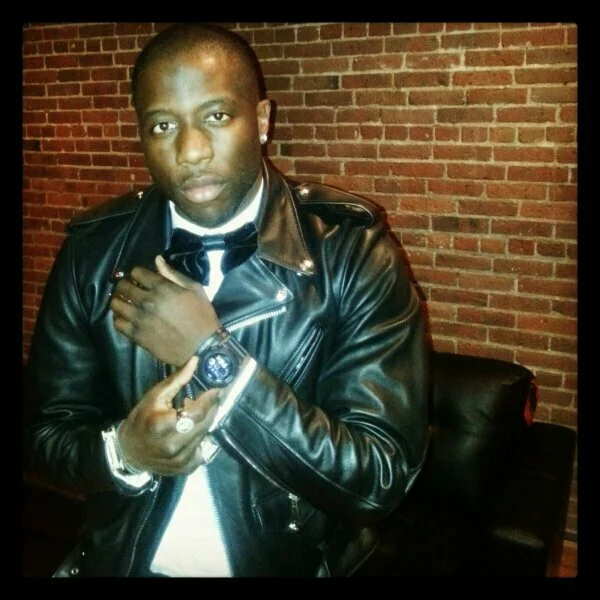 Nigel Sylvester didn't look like his usual self last night as he launched his Black Out, his second watch collaboration with G-Shock in two years, in NYC's Meatpacking District. Sylvester, it occurred to me, is usually dressed casually in jeans and kicks, as if ready to ride. Last night the pro BMX champ, beloved on social media and on the streets, took it up a notch: he wore black velvet shoes, a leather jacket, a velvet bow tie and black drop-crotch trousers, a look he says has to do with his maturity as well as the color palette of his new watch.

"I'm maturing. I'm growing up, and I'm into different things now," Sylvester informed me in a drafty, unfinished loft high above Hook & Nail, the launch venue, while his childhood friends milled and chilled on couches.
"That's the thing with the watch: I wanted it to be sexy and sleek," Sylvester added, staying on point, "something that was just beautiful. The outfit today? I'm wearing velvet Del Toros, Oak pants and a velvet bow-tie: Perfecto!"

Sylvester is the first of his crew to break out into stardom, the first to take his dreams real and to another level.
"I'm living the dream right now, dude! I have my friends, my bestest friends, my oldest friends with me. When I was 10, 12 years old I dreamt about the days I'm living now," Sylvester said.
When asked if he was prepared for the fame he prayed for, he revealed: "I don't think I was prepared for it. It was just one of those things that happened. I was like, 'OK, cool I'm gonna rock with it and make it happen. Even the people I knew growing up, no one went to the level I am at or even further. It was one of those things I didn't start understanding until I got here."

For the fearless street rider, here is both a material and spatial level of success. That success is reflected in the eyes of his boys who beam with pride and administration of his skill and creativity on a bike when they talk about him. One I spoke to before the party jumped off, whose name I can't recall cuz we were both drunk, before heading down to the main event, spoke about how humble and grounded Sylvester's been throughout his ascent to his stardom.
"I used to ride with Nigel," the gentleman from The Dominican Republic said, "but I stopped cuz I got interested in other things. But it's because of him we've got the opportunity to travel and ride our bikes in other countries. He's a great and humble dude who loves his friends."
A Nigel Sylvester party is one of the best parties you can go to in NYC cuz everyone has a blast. Between the booze, the music and the love for dude floating around, how can you not have a great time? Last night wasn't any different: DJ Clark Kent was on the 1s & 2s, then two live African drummers with three African dancers, all from the Black Out video, came up and rocked the stage. Then, as he's done before at previous Sylvester events, Pharrell showed up.
Fighting at Nigel Sylvester party is like fighting at a Michael Jackson concert: absurd. But Pandemonium broke out in a corner of the venue away from the mini stage where ASAP Ferg was performing.Two dudes near coat check, one of whom who wanted fight cuz he didn't want to be seen as a "pussy nigga", were throwing punches before security escorted them out.
The flow of the party continued but it was a wrap for me after that.
In part two of my interview with Sylvester we talk more about fame, women and creativity.