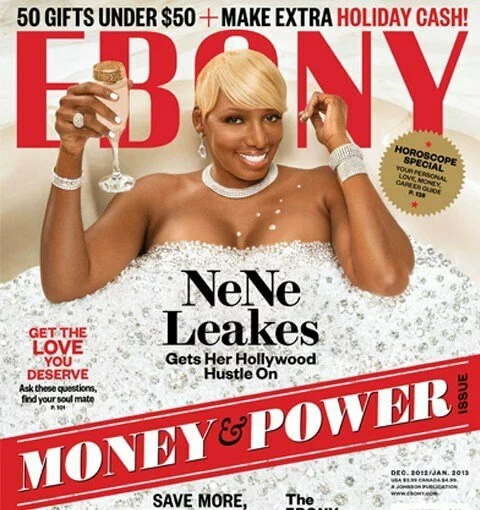 The collective groan you hear is Ebony magazine's subscribers reacting to Amy Dubois Barnett decision to lace Real Housewives of Atlanta star Nene Leakes with a cover. The  Annual December/January Power 100 Issue hits newsstands next week.
Leakes, famous for her antics and snaptastic mouth, has parlayed her reality fame into real acting gigs on shows like Glee and The New Normal. To call her an actress is a stretch though. What viewers see in Leakes is a stereotype as old as film: loud, big, black, combatative, sassy; and a poster child for white beauty. Evidence: the blond hair, the cosmetic surgery, and her appearances on un/scripted TV. However, Ebony, a publication which used to be the  LIFE magazine for African Americans,  has elevated Leakes to the top of their annual Powerful 100 List.
This is wrong on so many levels.
#1. Leakes has no power, she is a pawn used by the Hollywood machine to maintain stereotypes about black women.
#2. If Leakes does have power, its whitin the margins of the shoe line she sold her name and likeness to.
#3 The assumption that this inane construction of a black woman as powerful is laughable considering that there were individuals more deserving, and realistic, than Leakes, people whom Ebony readers could emulate. Writer and producer Shonda Rhimes, for example.
Magazines and television are all about images, perception and control.Whomever controls the image controls perception. Rhimes has done incredible things for black women and black people on tv at a time when the only images of us tallied to 22 minutes on a sitcom. Rhimes made the list but not the cover. Kerry Washington, Lebron James, the Obamas, and Beats By Dre brand ambassador Karen Civil also made the list, to name a few.
I get it. Ebony needs to stay current, but not like this. This sends a terrible message about power, black women and white beauty standards.