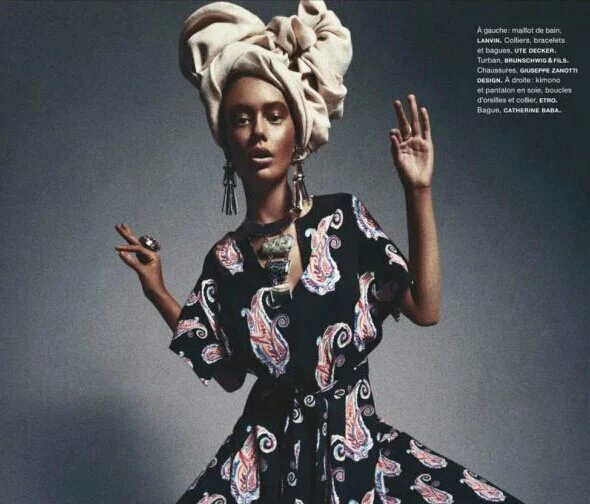 This week has been stellar for blackface,  the age old and often hilarious practice by whites who darken their faces in order to be simultaneously funny and black cuz, you know, all it takes to be a black person in the 21st Century is some paint and a wig.(Sarcasm)
UPDATE: Numéro and photographer Sebastian Kim released statements apologising for the shoot. Check em out below.
Sebastian Kim, above in a photo by Steven Chu, is a wildly successful portrait, fashion and commercial photographer who has shot for GQ, Numero and others. He has agencies in NYC,  London and Paris. Rihanna for GQ is perhaps his most recognized work. His most notorious however, is his "African Queen" shoot with a 16 year old white girl painted deep brown and black for Numéro's March 2013 issue.
In response to the outcry Mr.Kim wrote a letter on his agency's blog yesterday. Here's what he said after Numéro shifted the blame to him:
I would like to apologize for any misunderstanding around my recent photos for Numero France. It was never my intention (nor Numero's) to portray a black woman in this story. Our idea and concept for this fashion shoot was based on 60′s characters of Talitha Getty, Verushka and Marissa Berenson with middle eastern and Moroccan fashion inspiration. We at no point attempted to portray an African women by painting her skin black. We wanted a tanned and golden skin to be showcased as part of the beauty aesthetic of this shoot.
It saddens me that people would interpret this as a mockery of race. I believe that the very unfortunate title "African Queen" (which I was not aware of prior to publication) did a lot to further people's misconceptions about these images. It was certainly never my intention to mock or offend anyone and I wholeheartedly apologize to anyone who was offended.

Sincerely,

Sebastian Kim
I am calling BS on Kim's apology and Numéro's which was released yesterday. Numéro may think this is an apology; it's not.
Some people have declared that they have been offended by the publication in Numéro magazine n°141 of March 2013, of an editorial realized by the photographer Sebastian Kim called "African Queen", featuring the American model Ondria Hardin posing as an "African queen", her skin painted in black.

The artistic statement of the photographer Sebastian Kim, author of this editorial, is in line with his previous photographic creations, which insist on the melting pot and the mix of cultures, the exact opposite of any skin color based discrimination. Numéro has always supported the artistic freedom of the talented photographers who work with the magazine to illustrate its pages, and has not took part in the creation process of this editorial.

For its part, Numéro Magazine, which has the utmost respect for this photographer's creative work, firmly excludes that the latest may have had, at any moment, the intention to hurt readers' sensitivity, whatever their origin.

Numéro Magazine considers that it has regularly demonstrated its deep attachment to the promotion of different skin-colored models. For instance, the next issue of Numéro for Man on sale on 15th march has the black model Fernando Cabral on the cover page, and the current Russian edition's cover of our magazine features the black model Naomi Campbell on its cover. This demonstrates the completely inappropriate nature of the accusations made against our magazine, deeply committed to the respect for differences, tolerance and more generally to non-discrimination.

Considering the turmoil caused by this publication, the Management of Numéro Magazine would like to apologize to anyone who may have been offended by this editorial.
Numéro's apology is also BS because theve done shit like this before, publishing the image below in 2010.
*********
First there was the photo of Brooklyn Assemblyman Dov Hikind who painted himself dark brown and wore an afro wig for Purim, cuz thats what a black basketball player looks like, according to him.Hikind was unapologetic in his "apology," saying he doesn't have a racist bone in his body. This is a person with the power to craft legislature in New York, impacting scores of lives. This is also the man who called out John Galliano two weeks ago for being culturally insensitive;  because that designer wore a borsalino hat and loose, hanging curls during fashion week.
Second, we have this cover story from Numero magazine called "African Queen" in which a white girl from North Carolina, Ondria Hardin, is painted bronze/black and is dressed in bright colors, headwraps and chunky jewelry, cuz that's what a black person from Africa looks like. Jezebel first called out this nonsense, which sees no end in sight.
At this point in the game it's clearly obvious that fashion publications are not interested in black people. These stories repeat themselves every other season.
Why is it so hard for magazine editors, fashion editors, to understand that this shit is offensive? 

Hire a black girl! Why won't you hire a black girl?
Black women, authentic black, dark women, are being erased from media systematically.  In their places are images of Beyoncé, Halle Berry and other light and bright people who are labeled black.
What does it say about our world when the only representaion of blackness is a white person wearing paint on their skin?