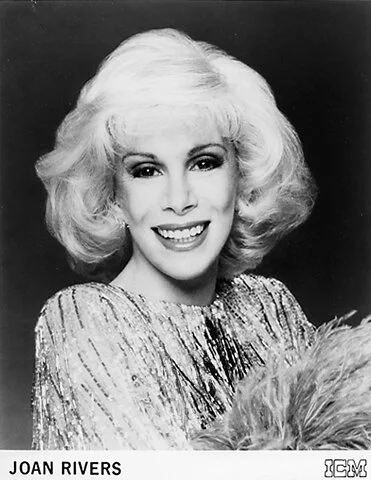 Badass comedian and serial plastic surgery patient Joan Rivers is dead. The trailblazing entertainer lived to see the ripe old age of 81 despite her early struggles to make a big splash in a man's world.
Once Rivers reached the top, however, she did everything in her power to stay there as well as relevant: producing a YouTube show where she interviewed friends on a mattress and going under the knife multiple times to list two.
"I've had so much plastic surgery, when I die they will donate my body to Tupperware," she cracked to the New York Times in 2008.
Her vitriol knew no bounds, anyone and anything was game including superstar celebrities  like Tom Cruise. "He's been in the closet so long, I'm going to take him to Goodwill."
A tour-de-force, there was no stopping Joan once she got revved up, soaring then looping high no matter how hard hecklers and detractors tried to clip her wings. Case in point: A few years ago Rivers took on a heckler who objected to her jokes about Helen Keller. Turned out the man had a son was deaf.
"Oh, you stupid ass," Joan said, according to Gawker.com. "Let me tell you what comedy is about. Oh please, you are so stupid. Comedy is to make everybody laugh at everything and deal with things, you idiot. My mother is deaf, you stupid son of a bitch. Don't tell me."
The scene Gawker froze and zoomed in on was from Ricki Stern and Anne Sunberg's 2010 documentary "Joan Rivers: A Piece of Work," which you can stream on Netfix this weekend.
Joan Rivers was abrasive, mean, funny and truthful and clever. She was also very active with the Girl Scouts of America, the Terrence Higgins Trust, Habitat For Humanity, and the American Foundation for Suicide Prevention. She was a classic New Yorker who lived by her wits, not her tits.
A star is gone.