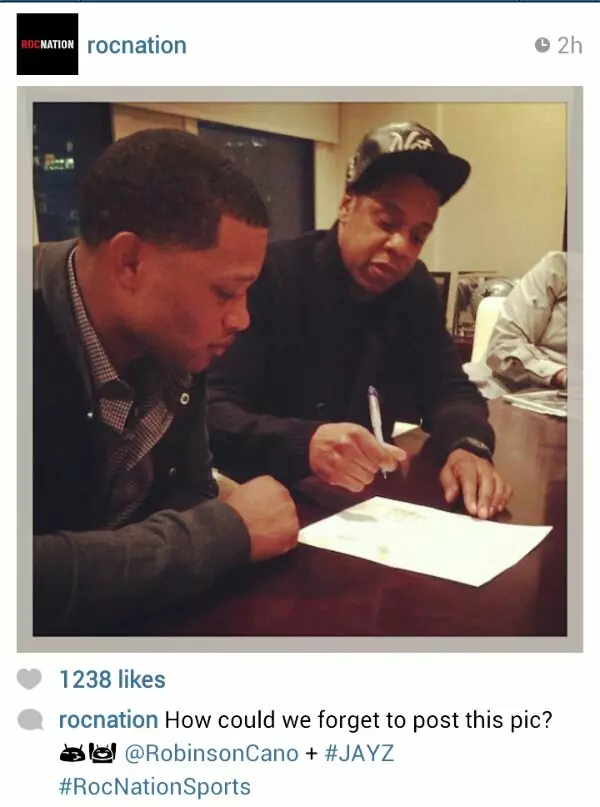 Freshly minted US citizen and Yankees second baseman Robinson Cano has signed with Jay-Z's Roc Nation Sports, a new business venture the Marcy Projects and hip hop mogul launched today in conjuction with Creative Artists Agency (CAA).
Cano, a 2009 All Star and four time Silver Slugger Award Winner, was born in the Dominican Republic and recently became a US citizen. He  signed with Jay-Z, born Shawn Carter, after firing his agent Scott Boras who, until recently, was trying to re-sign free agent Cano with the Yankees.
"At this point in my career, I am ready to take a more active role in my endeavors on and off the field," Cano, 30, said in a statement. "I am confident that the pairing of Roc Nation Sports and CAA Sports will be essential in helping me accomplish my short- and long-term goals. I am making this important decision now so I can keep my focus on helping the Yankees succeed in 2013, while minimizing any distractions for me and my teammates."

Cano will be represented by CAA Sports baseball group, which says it has negotiated $1.1 billion worth of deals, including four contracts that exceeded $100 million, in the last two years alone.
Jay-Z's love of sport is well known. He is part owner of the Brooklyn Nets and owns the 40/40 Club, a sports bar first launched in New York. The upscale bar is a popular hang out for athletes.
Roc Nation currently represents Rihanna, Shakira and Timbaland, among others. Roc Nation Sports will be its own  entity even though it launched with CAA.
Roc Nation Sports will be led by the rapper with Juan Perez serving as president.